The Best North American Airlines in 2023 for Every Budget
17.05.2023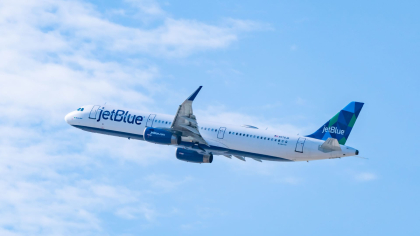 It's not just you, the air travel experience is getting measurably worse.
Consumer research firm J.D. Power this month released its 2023 North America Airline Satisfaction Study, which measures passenger satisfaction among business and leisure travelers of major airline carriers.
For the second straight year, the study found that passenger satisfaction has declined, driven largely by rising airfare costs. It slipped 22 points between 2021 and 2022, according to J.D. Power, and seven points between 2022 and this year.
J.D. Power surveyed 7,774 passengers who traveled between March 2022 to March 2023. The airlines were scored on a 1,000-point scale and judged on seven factors:
Check-in

Boarding

Baggage

Aircraft

Flight Crew

In-Flight Services

Costs &Fees
But while customer satisfaction has slipped overall, several airlines are still receiving high scores from travelers. These are J.D. Power's top airlines of 2023.
Best in First and Business Class
JetBlue Airways: 893 points

Delta Airlines: 865 points

United Airlines: 848 points

Alaska Airlines: 833 points

Air Canada: 830 points

American Airlines: 826 points
JetBlue Airways ranked highest in customer satisfaction in first/business class for the second year in a row, with a score of 893.
In May, the airline announced it was adding a slew of new perks to its loyalty program, including the choice of early boarding (except for basic economy ticket holders) and priority security screening.
Delta Air Lines ranked in second place in J.D. Power's study with 865 points.
The airline is one of the oldest in the business and serves more than 1,000 destinations in over 60 countries on six continents.
United Airlines ranked third with a score of 848. According to the airline's website, it serves airports in 354 destinations and 48 countries.
Best in Premium Economy
Delta Air Lines: 848 points

JetBlue Airways: 840 points

Alaska Airlines: 823 points

American Airlines: 821 points

Air Canada: 797 points

United Airlines: 784 points
Although Delta didn't rank first for the best in first/business class, the airline topped the list for best in premium economy.
Delta's premium economy class offers passengers adjustable seats with "even more legroom," an expedited airport experience, and enhanced service with a complimentary alcoholic beverage, according to its website.
JetBlue Airways came in a close second with a score of 840, which is still 20 points above the overall average score of 820 out of 1000.
Alaska Airlines ranked third with an overall customer satisfaction score of 823. It is the fifth largest airline in North America and operates out of five hubs, with its primary one at the Seattle-Tacoma International Airport in Washington.
Best in Economy/Basic Economy
Southwest Airlines: 827 points

Delta Air Lines: 801 points

JetBlue Airways: 800 points

Alaska Airlines: 781 points

WestJet: 777 points

Allegiant Air: 775 points

United Airlines: 770 points

Air Canada: 765 points

American Airlines: 764 points

Spirit Airlines: 727 points
When it comes to economy and basic economy, Southwest Airlines beat Delta and JetBlue for the top spot.
Southwest Airlines scored 827 on the overall customer satisfaction index. It is one of the world's largest low-cost carriers and has services in over 120 destinations in the U.S. and 10 countries.
In 2018, Southwest Airlines carried more passengers than any other U.S. airline, according to the Bureau of Transportation Statistics.