Chicago Gourmet 2023 The Millennium Park fest
27.07.2023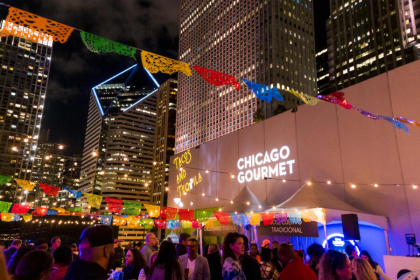 Chicago Gourmet, the city's bougie food fest that gathers together some of the most well-known restaurants and chefs in town, has launched ticket sales for this year's festival which returns to Millennium Park from Thursday, September 21 through Sunday, September 24.
The 2023 festival retains last year's smaller footprint at the Harris Bank Theater's rooftop terrace. Chicago Gourmet normally sprawled out across Millennium Park before 2020 and COVID, the festival continues to recover from the pandemic's impact. This year, Chicago Gourmet will have the dubious honor of taking place 10 days after the Taste of Chicago wraps up. City officials saw a chance to put Chicago in the national spotlight by displacing the Taste from its regular July dates in favor of the NASCAR Chicago Street Race.
While the city of Chicago organizes Taste, Chicago Gourmet is a privately funded event hosted by the Illinois Restaurant Association. This year's event is travel themed, as the city recovers from the pandemic. Armed with the slogan, "All Roads Lead to Gourmet," organizers hope to drive tourist dollars to Downtown Chicago: "It's all about guests in beds and diners in seats," association President Sam Toia told Eater in April.
Celebrity chef Rick Bayless (Frontera Grill, Topolobampo) will host the kickoff event Tacos & Tequila on Thursday, September 21, where attendees will find fancy tacos and agave cocktails. The gathering promises an impressive lineup of participating chefs including 2023 James Beard finalist Diana Dávila (Mi Tocaya Antojeria), Marcos Ascencio (Taqueria Chingon), Rodolfo Cuadros (Don Bucio's Taqueria), Jonathan Zaragoza (Čálli), and Maria G. Landa (Rubi's on 18th).
On Friday, September 22, Top Chef and Iron Chef champion Stephanie Izard (Girl & the Goat) will host the Hamburger Hop competition (last year's prize went to Corey Grupe of Burger Federation in Terminal 3 of O'Hare International Airport). Themed a "great American road trip," it'll include a diverse assortment of chefs including pit master Dominique Leach (Lexington Betty Smokehouse), Marcos Campos (Porto), Gene Kato (Momotaro), and Zubair Mohajir (Wazwan).
Gourmet has recruited West Loop darling diner Lou Mitchell's to participate in the Hop. The Chicago classic is celebrating its 100th birthday and is hailed as one of America's best diners.
For those who want to feel like VIPs, the Grand Cru, which specializes in exclusive winemakers and particularly prominent chefs, will return with two sessions on Saturday, September 23 on top of the Harris Bank rooftop. The first session will feature chefs including Soo Ahn (Adalina), Top Chef Joe Flamm (Rose Mary), James Beard Award-winners Beverly Kim (Parachute) and Kwame Onwuachi (Tatiana NYC), and Patty Neuson (Herb Thai). For the second session, attendees can expect to see even more food stars including Beard finalist Maya-Camille Broussard (Justice of the Pies), Lamar Moore (Bronzeville Winery), Tony Priolo (Piccolo Sogno), and Mona Sang (Khmai Cambodian Fine Dining).
Finally, James Beard Award-winning chef Sarah Grueneberg (Monteverde) on Sunday, September 24 will host the second annual Prost! in the Park, an Oktoberfest-style party featuring a group that includes D'Andre Carter (Soul & Smoke), Tigist Reda (Demera), Brian Jupiter (Frontier, Ina Mae), Richie Farina (Adorn), and Paul Fehribach (Big Jones).
Smaller events will also dot the weekend, including a Somm Session on Friday with Italian dishes from Ahn, a Rise & Shine Gourmet Brunch on Saturday with longtime friends Art Smith (Art Smith's Reunion) and Lorena Garcia (Chica), and the Late Night Gourmet after-party, also on Saturday, with small bites and cocktails at Tao Chicago.
Chicago Gourmet tickets, which range from $70 to $2,000, are on sale via Eventbrite, and all the details are available online.