Inflation remains high in South Florida. Here's how to save money on groceries
26.07.2023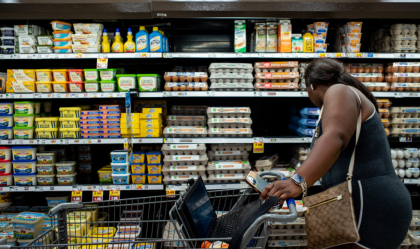 The latest consumer price index shows that in June, food prices in the Miami-Fort Lauderdale-West Palm Beach area saw an increase of 6.7%.
Overall, inflation across the country may be trending down, but Miami mom Monica Gonzalez continues to feel the burden of higher prices.
"I think I feel it more now that I have a son, a baby," she said.
Nationwide, inflation showed signs of easing in June, with the consumer price index falling to 3% in June. But prices in South Florida remain high.
A recent WalletHub analysis found South Florida is one of the areas in the country where inflation is rising the most. The latest consumer price index shows that in June, inflation in the Miami-Fort Lauderdale-West Palm Beach area jumped 6.9% over the year. Housing prices saw double-digit increases over the year while food prices in the area saw an increase of 6.7%.
Those numbers likely won't surprise Monica, who knows exactly what is her biggest monthly budget buster.
"Food," she said. "Any type of food. Vegetables, fruits, everything."
Monica estimates her family spends over $500 a month on food. She is short on time so she keeps her saving strategy simple.
"I do use some apps online that help me save," she said. "I also follow a few people online that are coupon experts."
She stocks up on items like frozen foods and cereal using "buy one, get one free" offers and tries to minimize food waste by only buying fresh fruits and veggies she knows her family will eat before they spoil, she said. She also adjusts what is on the menu each week.
"We do more chicken than meat because the chicken is a price that's more reasonable whereas the meat is a little bit more expensive right now," she said.
"It is really hard right now for people because the price of food has been so high," said Kimberly Palmer, a personal finance expert at NerdWallet.
To maximize your money, Palmer said the most important step you can take is to really plan out your meals.
"Take some time in the beginning of each week and think about how, when you purchase one item, you can actually use it the next day, too," she said. "So maybe you make a roast chicken one night and that turns into tacos the next night."
Use weekly sales circulars to map out where you can find the best deals at your local stores and avoid paying extra for convenience, Palmer said.
"It's so easy to buy snack packs and other pre-packaged items for your kids that are really simple and convenient to use but it ends up adding so much cost," she said. "Instead, if you could buy in bulk and just separate out those snacks, put them in bags yourself or have your kids help you do it, and give them their snacks that way, that can really save a lot of money."
As for Monica, she said her two backyard chickens have also helped her curb food costs, especially when egg prices soared earlier this year.
"I said let's try this out and see and I think it's been the best decision ever," she said. "Grass-fed, super natural eggs. It doesn't get any better than that."
Even though she does what she can to save, Monica said she was still worried it won't be enough.
"My concern is that ... prices keep going up and going up and things are not changing," she said.
Monica uses an app called Fetch, that gives her points for uploading receipts. She told NBC6 she had already redeemed some of her points to get a couple of $25 gift cards.
You may also find savings with apps like Ibotta and Rakuten.
Palmer said an app called Flipp can help you figure out which local store is having sales on the items you need each week.