10 BEST AMAZON DEALS ON KEURIG, LOGITECH, AND ORAL-B
08.11.2023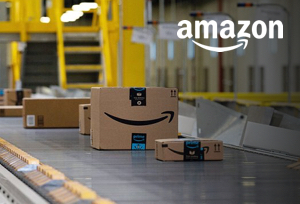 The holiday shopping season is just around the corner and if you don't want to wait until Black Friday 2023 to save on holiday gifts, beauty essentials or household essentials, these Amazon deals can help. The shopping giant's daily savings feature some of the lowest prices on kitchen gadgets, smart tech, and more. Whatever you need, we found the best Amazon deals to help you shop smart and save big today.
Shop the best daily Amazon deals
Below, you'll find today's top Amazon deals to help you stay on budget, including markdowns on Apple AirTags, Cuisinart cookware, and Logitech gaming tech, all of which have been vetted by our team of deals experts to ensure they're the "best of web" prices.
Here's the deal: Subscribe to our Perks and Rec newsletter for daily savings on all the things you want and need.
If you're not already an Amazon Prime subscriber, you can sign up for a free 30-day membership today. An Amazon Prime subscription gets you free two-day shipping and tons of other benefits for $14.99 a month ($7.49 for students and $6.99 for those receiving qualifying government assistance). Better still, right now, shoppers can receive a $5 discount on their first $10-or-more Amazon app purchase.
10 best Amazon deals to shop today
Shop today's best Amazon deals
1. 29% off: One of our favorite gaming mice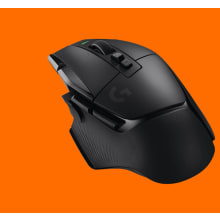 Logitech G502 X Lightspeed Wireless Gaming Mouse
Get this Reviewed-approved gaming mouse for less than $100.
Amazon is offering a wide variety of Logitech gaming gear on sale today and if you want to know where to start, the G502 X Lightspeed is a great tech tool to have by your side. Typically listed for $139.99, the wireless gaming mouse is now available for 29% off at $99.99. We ranked the G502 X Lightspeed among the best gaming mice we've ever tested for its compact, lightweight design that holds a hefty battery lasting up to 140 hours per charge. That way you'll have more time to enjoy minimal lag, speedy response rates, and the ability to create custom macros and button profiles on a per-game basis.
2. 56% off: This updated smart display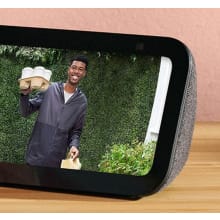 Echo Show 5 (3rd Generation)
Get the latest Echo smart display for more than half off.
Combine your video calls, home security, and streaming sites into one package with the third-generation Amazon Echo Show 5. Normally priced at $89.99, this compact smart display can be yours for more than half off at $39.99. We tested the previous generation of the Echo Show 5 and appreciated the sharp image quality on video calls and its ability to stream the likes of Apple Music and Netflix. The latest model promises those same stellar features in a 5.5-inch display and Alexa-assisted controls that can set alarms, set playlists, and even establish morning routines to get your day started.
3. Save $60: This compact coffee maker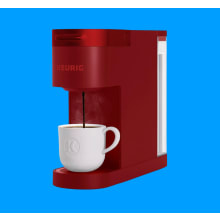 Keurig K-Slim K-Cup Pod Coffee Maker
Save $60 on this compact Keurig coffee maker.
Make your morning brew in a simple fashion with the Keurig K-Slim K-Cup Pod coffee maker. Typically listed for $129.99, this single-serve appliance is on sale for just $69.99 thanks to a $60 price cut. Amazon says the K-Slim is only about 12 inches high and a little over 4 inches wide, meaning it can easily slide onto the most crowded kitchen countertops. Its water reserve can hold up to 46 ounces of water and brew 8-, 10-, and 12-ounce coffee servings in mere minutes.
4. 17% off: This Reviewed-approved electric toothbrush
Oral-B iO Series 9 Rechargeable Electric Toothbrush
Get this Reviewed-approved electric toothbrush for 17% off at Amazon.
If you want your pearly whites to really shine this holiday season, consider picking up the Oral-B iO Series 9 rechargeable electric toothbrush. The top-rated dental accessory features seven cleaning modes and comes with a travel case and four brush heads. Ranking as one of the best electric toothbrushes we've ever tested, we loved that the iO Series 9 offered an engaging toothbrushing experience and had a motivating display interface. We also appreciated that it ran on the quieter side. While pricy, you can score the electric toothbrush today for 17% off at Amazon, bringing the full $299.99 list price down to $249.94.
5. Less than $190: One of our favorite cookware sets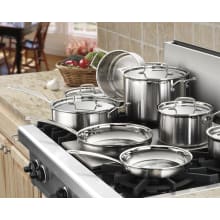 Cuisinart 12-Piece MultiClad Pro Cookware Set
Save big on this user-friendly cookware set.
Get your kitchen ready for big holiday meal prep by adding this Cuisinart MCP-12N 12-piece cookware set to your stovetop. Normally priced at $299.95, Amazon has this collection of triple-ply pots and pans for $186.99 thanks to a 27% discount and an extra coupon worth $32.96. The Cuisinart MCP-12N is our pick for the best value cookware set on the market, featuring saucepans, skillets, and more cooking tools available in different sizes for a variety of dishes. All the pans have great heat conductivity and the anodized aluminum core makes them light enough to easily handle.
The best Amazon deals from this week
1. LifePro Hand Massager with Heat
LifePro Hand Massager with Heat
Get this compact health accessory for $20 off today.
If you need to give your fingers a break after a long day of typing, this LifePro hand massager can help. Typically listed from $79.99, you can get the heat-assisted massager for just $59.99 thanks to a $20 coupon. We picked the LifePro as the best hand massager we've ever tested for its five different massage modes and intensity levels that help you find the right way to relieve joint pains. It's also wireless and travel-ready thanks to an included carrying bag.
2. Apple AirPods Pro (2nd Generation)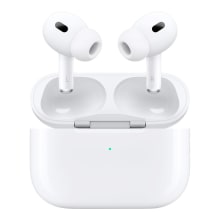 Apple AirPods Pro (2nd Generation)
Save 20% on these Reviewed-approved Apple earbuds ahead of Black Friday 2023.
$199.99 at Amazon (Save $49.01)
We think Apple AirPods Pro are the best Apple headphones on the market. They typically come with a pretty high price tag, but right now you can scoop the 2nd Generation USB-C version for a rare 20% markdown at Amazon. Ranking as our favorite headphones for iPhone users, the earbuds have impressive next-gen noise canceling, a sound and battery boost, and an Adaptive Transparency boost.
3. ThermoPro TP03 Digital Meat Thermometer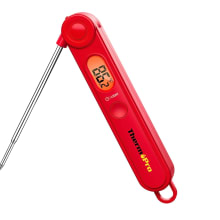 ThermoPro TP03 Digital Meat Thermometer
Grab this meat thermometer for a tasty price ahead of Thanksgiving 2023.
If you need a new kitchen thermometer ahead of Thanksgiving 2023, check out this ThermoPro TP03 digital meat thermometer. An Amazon customer favorite, the kitchen gadget is more than 30% off today with an extra 10% coupon included, bringing the typical $20.99 price tag down to as low as $12.59. The battery-operated thermometer features a 3.9-inch food-grade stainless steel probe, a high-precision sensor, and a backlight LCD display.
4. Ninja FD401 Foodi Deluxe XL Air Fryer
Ninja FD401 Foodi Deluxe XL Air Fryer
Get more cooking done easier with this discounted Ninja air fryer.
$149.99 at Amazon (Save $100)
Get all your meals cooked in one fell swoop by adding the Ninja FD401 Foodi Deluxe XL air fryer/pressure cooker. Normally priced at $249.99, this eight-quart small appliance is available for $149.99 thanks to a $100 price cut. Ninja makes some of the best air fryers we've ever tested, earning high marks from our testers for their intuitive designs and complete cooking jobs. The FD401 looks to be no exception, boasting the ability to steam, broil, slow cook, air crisp, and more in its spacious basket.
5. Apple AirTags 4-Pack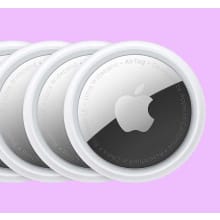 Apple AirTags 4-Pack
Get these popular device trackers for 12% off.
$86.88 at Amazon (Save $12.12)
Never lose your car keys again with the help of Apple AirTags, now available on sale in a four-pack at Amazon. Normally priced at $99, this collection of compact device trackers is currently 12% off at $86.88. When we tested the AirTags, we praised the easy setup process of the trackers and the frequent precise locational updates on the tags when synced to Apple devices. You can track down your lost keys over a long distance with the Find My app, or just within your own four walls thanks to the built-in speakers broadcasting sounds to help you locate your essentials.
Other noteworthy Amazon deals we found
Last news