The country's first pricing program to fight traffic congestion in NYC
26.07.2023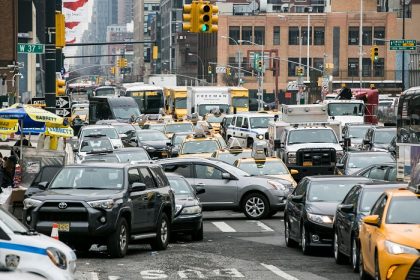 The Manhattan Central Business District Tolling Program has received a green light from the Federal Highway Administration — and New York City is on its way to implementing the nation's first congestion-pricing program.
What is the Central Business District Tolling Program?
The program will charge a $9-$23 daily toll for vehicles to drive below 60th Street during peak traffic hours, The Hustle reported.
The electronic tolling system will use overhead sensors to read drivers' E-ZPass tags and charge the fee to their accounts. Those without the E-ZPass tag will be able to use the Tolls by Mail program.
Under the CBD program, rates will change at a set time of day to maintain variable tolling. Those who seek to drive in the designated toll area in the middle of the night, for example, will be charged less than those who drive during rush hour.
Taxi and ride-share drivers will only be tolled once a day, frequent low-income drivers will receive a discount, and residents who make less than $60,000 a year will get a New York state tax credit for CBD tolls paid. Vehicles transporting people with disabilities and emergency vehicles will not have to pay the toll.
Why is the Manhattan CBD Tolling Program important?
New York Governor Kathy Hochul announced: "Congestion pricing will reduce traffic in our crowded downtown, improve air quality, and provide critical resources to the [Metropolitan Transportation Authority]."
Each day 700,000 cars, taxis, and trucks enter Lower Manhattan, one of the busiest areas in the world, per the MTA website.
A 2018 study conducted by the MTA "estimated that congestion in the New York City region would cost businesses, commuters, and residents $100 billion over five years."
Programs like the new one can also help to reduce both air and noise pollution.
"Reducing emissions from cars and trucks and improving transit so that it is a viable and reliable choice for our mobility needs is critical for reaching our climate goals," stated Tri-State Transportation Campaign Executive Director Renae Reynolds after news of the CBD Tolling Program's approval.
After covering the program's costs, 80% of the money collected from the CBD Tolling Program will be used to improve and modernize the NYC subway system and buses, 10% will go to improving the Long Island Rail Road, and 10% will go to the Metro-North Railroad, according to the MTA.
Improving these commuter railroad projects should make them faster, more accessible, and more reliable.
Though this is the first time a congestion-pricing program is being implemented in the U.S., major cities have seen success with similar programs. According to a 2008 report by the Federal Highway Administration, Stockholm saw a 9%-26% reduction in traffic congestion in certain areas and a 10-14% drop in carbon dioxide pollution.
New York City Department of Transportation Commissioner Ydanis Rodriguez expressed excitement for the program's approval: "We are leading the nation in developing a congestion pricing program that will deliver a safer, healthier, and more equitable city."
Last news